About the Center for Spina Bifida Prevention (CSBP)
Our Mission
Keeping kids out of wheelchairs – by compelling decision makers world-wide to mandate fortification of processed foods.  Since the United States mandated fortification, over 60 other countries have done so, but that leaves over 100 that do not, including India, China, almost all of Europe and parts of Africa.
Our History and Leadership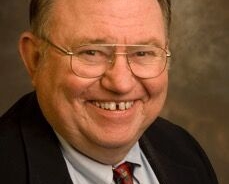 The Center for Spina Bifida Prevention was founded in 2012 at Emory University, Rollins School of Public Health.  The Center is directed by Dr. Godfrey P. Oakley, Jr, MD, MSPM, former Director of the Division of Birth

Defects at the Center for Disease Control (CDC) and the world's leading expert in the prevention of spina bifida and anencephaly.
Vijaya Kancherla, PhD. has medical training from India and holds a doctorate in Epidemiology with several years of experience in the field of birth defects research.  She leads several studies as an epidemiologist at the Center for Spina Bifida Prevention.
What does the Center bring?
We bring a unique approach focused on prevention.  Although other sites and organizations offer support and education, the Center for Spina Bifida Prevention directs its attention to capturing the political will to mandate fortification of foods with folic acid, a B-vitamin that has been proven to prevent spina bifida and anencephaly.
We have already been successful in preventing spina bifida with this approach!  When it was shown in 1991 that folic acid would prevent spina bifida, Dr. Oakley worked with medical professionals and parents represented by March of Dimes to get the FDA to require folic acid to be added to enriched grains in the United States.  This mandate was passed in 1996 for implementation in 1998.  The U.S. has fortified grains since 1998 and the prevalence of spina bifida has been reduced from 10 per 10,000 births to 5 per 10,000 births, for a reduction factor of 50%.
Just as smallpox was eradicated by a vaccine, we see folic acid as the "vaccine" to prevent spina bifida.  It is a means to an end.
Training
The Center also serves as a training hub for many students enrolled at Emory University, assisting us in research, prevention and policy issues.  Several students have taken up positions after graduation based on the experience they were able to gain at the Center.
Partners
We have on-going collaboration with many other active organizations that complement each other in spina bifida research and prevention.  The Food Fortification Initiative (FFI) has championed folic acid fortification of staple foods and supplies training for millers in various countries.
We also have active partnerships with the March of Dimes, the International Federation for Spina Bifida and Hydrocephaly, and the Task Force for Global Health.  Our Center takes pride in sharing its goal with many other key players in preventing spina bifida and anencephaly worldwide, and this association is both a strength and a resource that guides us in achieving our vision for improving lives of children and families worldwide.